Blue Water Charters specialize in custom designing your private diving experience to fit your individual needs. We take ALL the stress out of your dive planning! With your input, our dive planning specialists will organize all the details for you or your group prior to your arrival.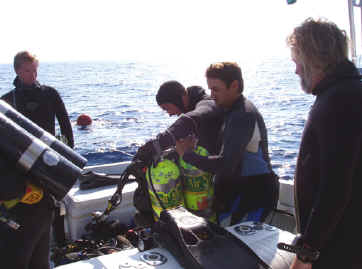 To best fit your comfort and budget, we offer two affordable private dive charter boats.
Both boats comfortably accommodate up to six passengers with 2-3 tanks per diver. Best of all, no need to worry about transportation to and from the dive boat, finding parking, or lugging your dive gear down Duval Street! We can provide complimentary transportation should you need it.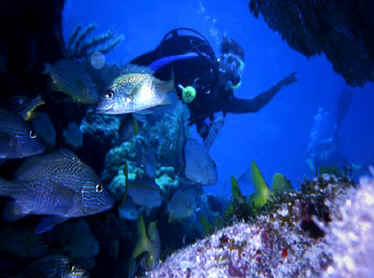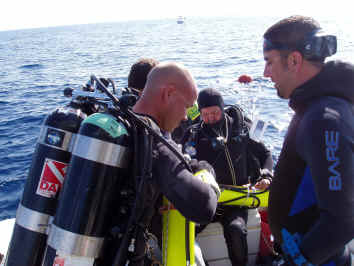 Whether you prefer wrecks or reefs, we've got just what you're looking for! Just a few miles south of Key West are reef systems filled with mounds of brain corals, caves, and sprawling ledges. And the deeper you go, the bigger and older the brain corals get! And just to our east is the awesome underwater attraction of the Looe Key National Marine Sanctuary.

This is a great place to check out the larger creatures such as spotted eagle rays, reef sharks, and loggerhead turtles. No wonder it's described as the third greatest live coral ecosystem in the world! Haven't had enough… how 'bout , we head over to the nearby wreck of the Adolphus Busch, the Keys newest wreck sank for the benefit of diving in 1998. She hasn't been down for

long, but she's made lots of new friends including a few large jewfish! Max depth is about 110, with the decks ranging from 45-60 feet.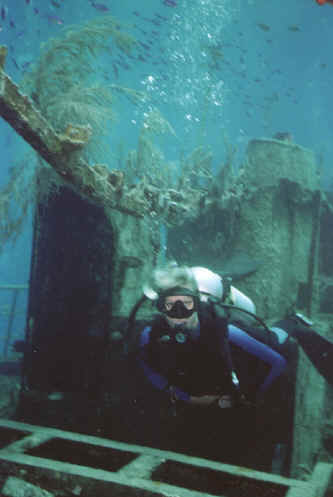 Planning to visit the Canary Islands for some great diving? Contact our friends at Atlantic Divers! Click on the dolphin to visit their website.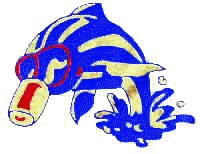 Taking a trip to Tahiti. Visit our friends at Aquatica Dive Center for diving and travel information Click on the island to visit their website

DIVE PLANNING SERVICES INCLUDE:
Site Locations & Logistics based on your certification level
Dive Planning: Deep Wreck, Shallow Reef, Drift Dives
Private Scuba diving instruction available upon request
Private diving refresher sessions available upon request
Equipment rentals: Tanks, BC, Regulator, Masks, Fins
Dive Computers available to download your dives to your PC
Diving Activities: Underwater photography, Underwater scooters
Hunting Activities: Spear fishing & Lobstering
All charters include experienced, knowledgeable and friendly crew with PADI DIVEMASTER ratings
FREE copy of our Dive Vacation Planning Guide
Complimentary pick up and return to and from your hotel.
DIVE AN AFFORDABLE PRIVATE HALF OR FULL DAY CHARTER
WITH YOUR VERY OWN KEY WEST DIVING PLANNING SPECIALISTS!