How To Find Blue Water Charters
If you are planning a trip on the water, let our staff be your guide. We can put you where the action is! We specialize in providing a personal touch to our trips. Small parties allow us to work with each individual if necessary, assuring a memorable experience whether itís deep sea fishing or tooling around on an underwater scooter. We are also experienced filming and photo shoot guides.
Customized trips to remote dive and fishing locations
Combo - Fishing/Diving trips.
We Welcome Special Requests
The Portofino's Upgrade
The Portofino is currently being remanufactured to 2012 specs by the manufacturer. This new boat will have increased speed, performance, and make it an even softer ride!

The Portofino is scheduled to relaunch on Nov 1, 2012.
The "Portofino"
"Key West's fastest Charter Boat"
46 ft. Sportfish, twin turbo diesels, up to 55-60 MPH, 300 mile range
Cabin with private marine toilet
Comfortably sleeps up to four
Half Day Charters
8am-12noon
oR 1pm-5pm
New Rates Coming Soon

3/4 Day Charters
6 Hours

New Rates Coming Soon

Full Day Charters
8am-4pm
OR 9am-5pm
New Rates Coming Soon

Extended Full Day


New Rates Coming Soon

NEW! Two Hour Sunset Tour/Cruise New Rates Coming Soon (Includes wine and beer)
or New Rates Coming Soon BYOB
Scuba/Snorkel Prices

Ĺ DAY (4 HOURS) PRIVATE

New Rates Coming Soon

ĺ DAY (6 HOURS) PRIVATE

New Rates Coming Soon

FULL DAY (8 HOURS) PRIVATE

New Rates Coming Soon

*PLEASE NOTE DEEP SEA FISHING CAN BE COMBINED WITH ABOVE-ASK FOR ADDITIONAL PRICING!

All Trips include ice, water & beverages. Fishing trips include all equipment, tackle & bait & licenses. All dive trips include tanks & weights.
Call us and we'll pick you up! All charters include free transportation from your hotel to the Galleon Marina. Our courtesy van will be waiting outside your hotel in the morning, and at the dock when the boat gets back to the marina!
'JUST ANOTHER DAY IN PARADISE…
SO WHY AREN'T YOU HERE?
Give us a call or send us an email with the dates you'll be in Key West. We'll be happy to check boat availability and answer any other questions you may have about our custom charter services!
Or if you prefer, we can just talk about fishing and diving,
diving and fishing…
Either way - give us a call!
305.304.8888
BOOK NOW
and receive
GREAT SAVINGS

Ask About
Our Weekend
Getaways!
*****ASK US ABOUT OUR VACATION RENTALS*****
The Galleon Marina- Slip #2
617 Front Street- two blocks off Duval Street, Key West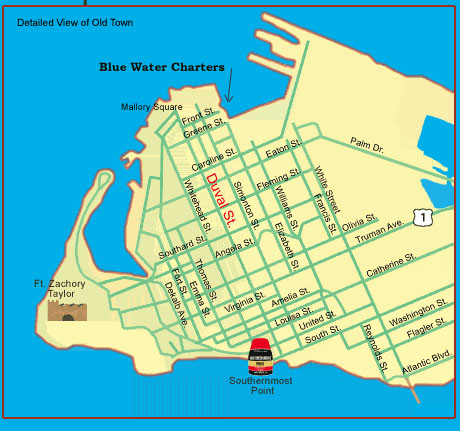 Return to top
back to home page |our boats |fishing | wreck diving | spearfishing | contact us | photo gallery | rates & info